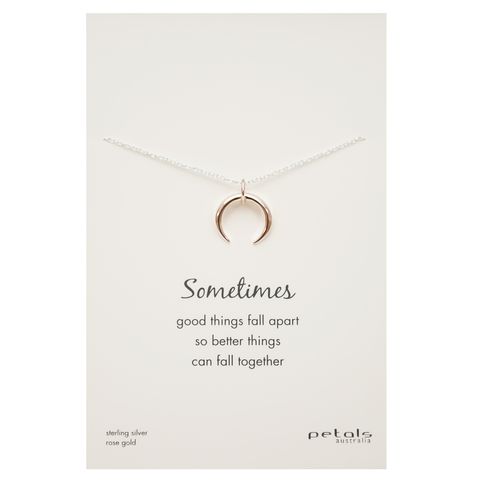 Rose - Crescent Moon Necklace
11-0043-N
Description
Description: The crescent moon symbolises femininity and has often been closely connected to women and their energy, much like the moon itself, which the crescent represents. It is also related to birth and fertility along with intuition, creativity and wisdom as they connect to womanhood.
Product Information: Crescent moon charm on 46cm curb chain made from sterling silver with a rose gold plating. Also available in sterling silver and sterling silver with a yellow gold plating.
- Sterling Silver Grade 925
- Gold and Rose Gold Plating 18K
- Protected by an electro plated anti-tarnish
- The full length measures approx. 46cm all the way around.
- All necklaces are presented on a Petals Australia Signature Quote Card
Exchange Information: For change of mind, you must notify us within 48 hours of receiving your order & we offer a 7 day turn around in which you can exchange your item for something else. We do not offer refund for change of mind. Please see our Shipping & Returns Policy for further information.