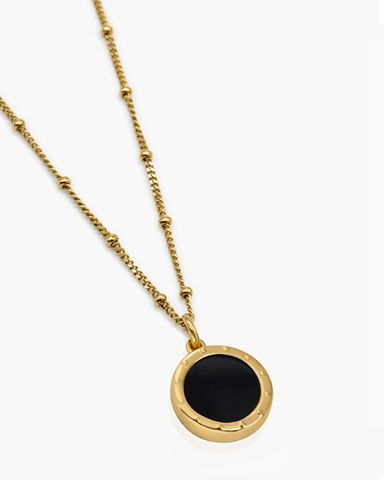 Gold - Black Onyx Pendant
19-08-N
Description
Black Onyx protects the mind and body from negativity, bringing a light at the end of a tunnel of darkness and guiding its wearer on a path of positive emotional and physical well-being.
As part of our new Delphi Pendant Collection we have included a selection of natural and semi-precious stones, each holding their own meaning and representing different energies. In ancient times Delphi was the sacred temple dedicated to Apollo and housed the oracle of Delphi, who was consulted about important decisions throughout the ancient classical world.
Available Stones: Black Onyx, Blue Lace Agate, Lapis Lazuli & Tigers Eye.
Product Information: Natural Stone Pendant, made from sterling silver with a yellow gold plating featuring a round Black Onyx.
- 60cm curb with bead chain
- 10mm Diameter Stone
- Sterling Silver Grade 925
- Gold Plating 18K
- Protected by an electro plated anti-tarnish.
Exchange Information: For change of mind, you must notify us within 48 hours of receiving your order & we offer a 7 day turn around in which you can exchange your item for something else. We do not offer refund for change of mind. Please see our Shipping & Returns Policy for further information.