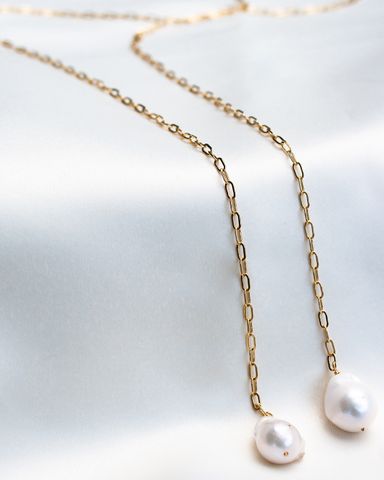 Tie Chain with 11-12mm Pearl
7021-107-N
Description
A woman needs ropes and ropes of pearls.' - Coco Chanel

Our Coco Collection is where classic glamour meets modern elegance. This collection combines beautiful pearls of all sizes with gold chains and clasps. From the timesless pearl choker to the modern half pearl - half chain necklace, the gold link necklace with a single pearl to the tie-chain pendant, each piece can be worn individually or layered for a dramatic look. Also included are our signature Coin Hook Earrings, now framed in gold, plus our very first ankelt and chunky bracelets.

Description:

Versatile, elegant, something truly special! The Coco Collection Lariat can be worn in many ways with the two large Pearls tied at the front or back. At 110cm in length the chain can wrap multiple times or hang losely.

Presented on our unique cards & packaged in our signature grey boxes this is the perfect gift.

Designed in Bangalow, in the Byron Bay Hinterland.

Product Information:

- 2, 11-12mm Pearls

- Sterling Silver with Gold Plating on all Chains, Clasps & Extenders.

- Protected by an electro plated anti-tarnish.

- The full length measures approx. 110cm

Exchange Information: For change of mind, you must notify us within 48 hours of receiving your order & we offer a 7 day turn around in which you can exchange your item for something else. We do not offer refund for change of mind. Please see our Shipping & Returns Policy for further information.